Briony is one of our fave DJs for the sheer depth, breadth, hilarity and outrageousness she exudes in her set selections, and was one of the regular disc-spinners - as Venom - between live acts at the Zoetrope parties at the Punters Club in Fitzroy, Melbourne, between 1997 and 2001, as well as one of the IF? parties in Tokyo - Zu-zushi - in 2004.
Briony also conjured up the "Gay Sons Are Great Fun" EP for IF?, and
these days she continues to grace the decks with her own idiosyncratic penache, mostly as Bee-Dub, and is the editor of VICE magazine in Oz.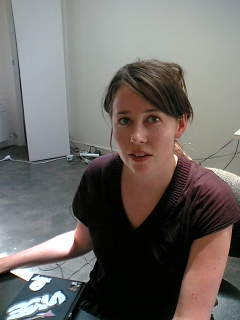 Her current activities?
"Attending our Vice birthday parties in Melbourne, Sydney, Auckland and Brisbane, dealing with deadlines and trying to write a film script.
"My new DJ name is Ghetto Boys, and I do it with Matty. Actually, that makes me seem even more confused so maybe don't add..."

Also known for his bouts of headless confusion - especially after an ale or three - Andrez first meet Bri when they both held down painful telephone customer service jobs (at Telstra) while at uni in 1993, and have been best mates since.
And Bri has often been the quiet strength behind all that the IF? label stands for...
Respect - and long reign confusion!