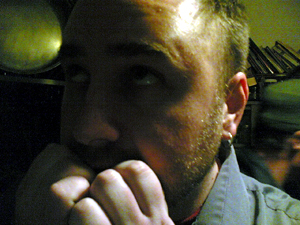 Take the last century of music, put it into a blender and out pours Isnod, a moody, molasses-smooth mélange of many a music.
Music composer Isnod has been performing solo and collaboratively for nearly six years. He has done a variety of things on his musical path, including support for artists as diverse as Mike Patton, Luke Vibert and Squarepusher. Damian has also proven a dab hand at remixing tunes for a variety of folk and at being commissioned for soundscape-y soundtrack work.
He has created several soundtracks for contemporary dance pieces; composed sonics for several short films; and created a soundscape for the Melbourne Fringe Fashion Festival made entirely from sounds recorded backstage on the night of the parade. When DJing, he has been known to set the dancefloor alight. Literally.
A member of the once active LN Elektronische Ensemble and a mercenary graphic designer and photographer on the side, Isnod has three albums available under his past name 'nod', and a fourth album on the way.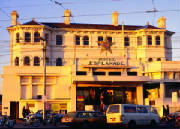 Andrez first met Damian over a jug (or three) of crappy tap beer at the Espie hotel in St Kilda, Melbourne, way back in 1993, and he played him tapes of his Isnod stuff while they did the artwork for 'Zeitgeist 3' in 1997. At the time he was creating absolutely crazy shite with his evil accomplice Mark Connors; Andrez says he seems to remember Vera Lynne dancing a cut-up jig with a sound or two snatched from the Squarepusher skool of thought...
Damian went on to headline at several Zoetrope sessions put on by IF? at the now sadly-defunkt Punters Club in Fitzroy, and helped Andrez do live support for Squarepusher, as well as Mike Patton and Spearhead.
You'll find him out there in Melbourne these days, continuing to tweak mad knobs, dials and sounds as Isnod...